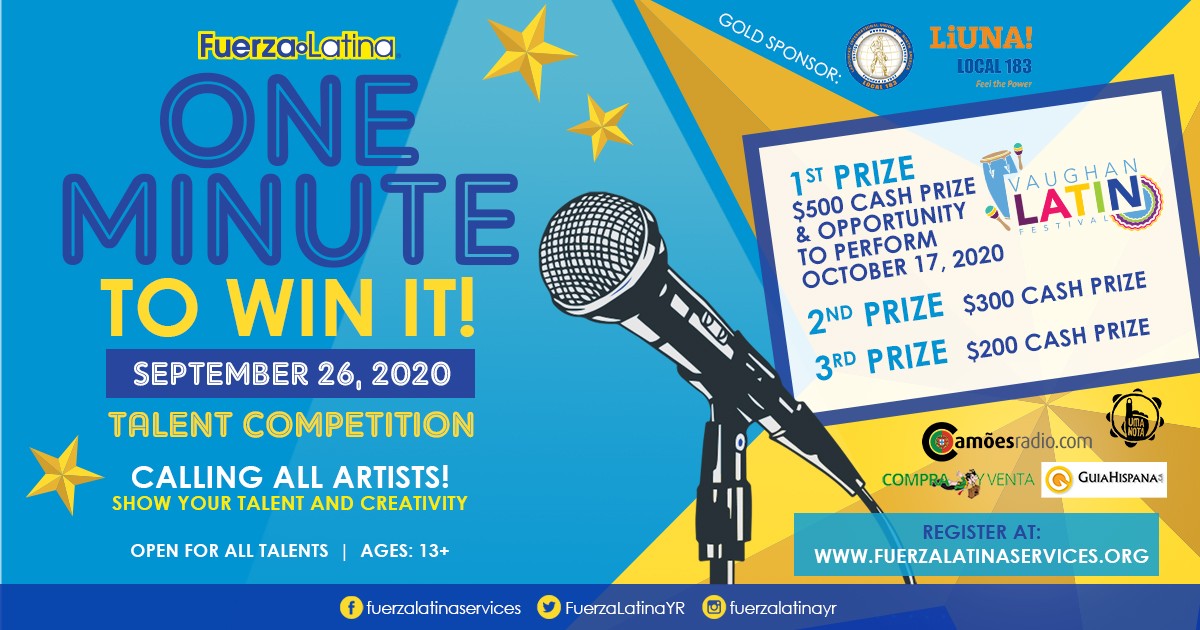 One Minute to Win It! Talent Competition
presented by Fuerza Latina
Fuerza Latina invites new and established Artists to demonstrate their creative talents. 
Registration is now closed. Below are our Top 10 Semi-Finalists.
Check out our YouTube playlist to see the top 10 entries and have your say; "LIKE" your favourite. Your popular vote counts.
Alessandro Montelli
Angelina Aviles
Bellv
Cmagic5
Daniel Hulk
Felipe Gala
Gabriel Martinez
Jasmin Sekhon
Monica Guzman
Tatiana Fryntov
ELIGIBILITY
Click HERE
 for the Official Rules. 
Consent to having read the Official Rules.

No entrance fee is required.

Online registration is required.

Open to Ontario residents who are over 

13 years, consent from parent/guardian is required if under 18 years.

One entry per participant or group of individuals

.

Talent categories are: Music (incl band), Vocal (not band), Dance, Filmmaking, Comedy, or Visual Arts (painting/drawing)

Musical and Visual Arts pieces must depict participant(s) performing their musical talents on video.

Up to one (1) minute long digital submissions accepted, please indicate preferred viewing timestamp if applicable.

Cash prizes are: First Prize Winner $500, Second Prize Winner $300, and Third Prize Winner $200

A valid email to be used for an E-transfer must be provided to accept

 cash prizes.

Judging criteria based on Time, Originality/Creativity, Quality, and Diversity.

Submissions deemed to be inappropriate (violent, dangerous, or sexual connotation) will be disqualified.

Participants are encouraged to follow the Government of Canada's health and safety measures:  

https://www.canada.ca/en/public-health/services/diseases/2019-novel-coronavirus-infection/prevention-risks.html?topic=tilelink#self