In response to the current physical distancing restrictions in place due to the health pandemic in Ontario, we are offering online programming alternatives. Regular programming has been postponed.
STARTING TIMES AND DATES VARY*
Stay connected with our online programs below or check out our other programs for their unique online events.
*Available until further notice.
Mujeres Latinas Network
Thursdays at 8 pm
LIVE via Zoom
Spanish-speaking women's networking sessions.
Zoom meeting ID # 723 9222 2100
Zoom meeting password  7RKnTd
Register through Eventbrite.
.
Becoming Agents of Change
Tuesdays at 8 pm
Starting June 30, 2020
LIVE via Zoom
Fuerza Latina les ofrece Conferencias para hombres y mujeres con el objetivo de apoyarles en su carrera como líderes y emprendedores para lograr ser agentes de cambio con Bernardo A Riveros.
Bernardo A Riveros is an exceptional Coach, Speaker, Trainer who aspires to empower this generation in the architectural business and training from John Maxwell.
Register through Eventbrite.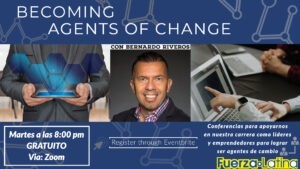 SPANISH4KIDS
Off for the Summer
Check back in September for more information
For kids ages, 2-5 yrs. Keep learning in the comfort of your own home.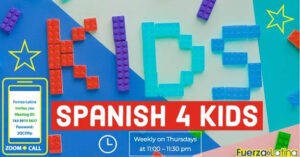 Frequently Asked Questions
How much is the cost of this program?
Unless specified, the programs offered online are FREE.
Are programs only for Spanish-speaking people?
Unless specified, our programs are open to everyone in the community with a basic understanding of English.