Mujeres Latinas Network International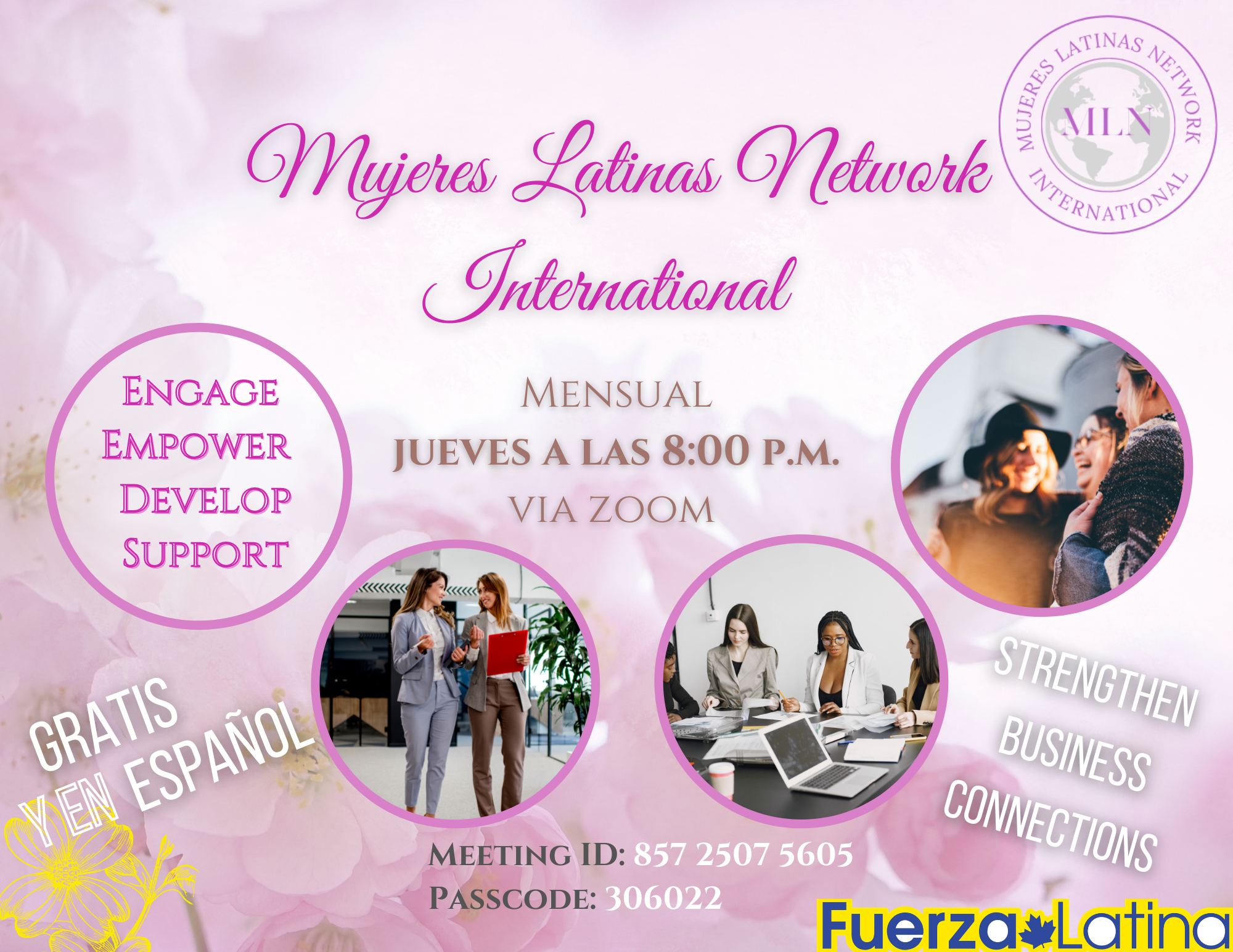 Mujeres Latinas Network International – Spanish Speaking
Once a Month, Thursdays at 8 PM via ZOOM
To take part in online group sessions download the Zoom desktop or smartphone App.
Email: info@fuerzalatinaservices.org to register and to receive your Zoom meeting link.
Envíanos un email a: info@fuerzalatinaservices.org y te enviaremos tu invitación por ZOOM.
*Available until further notice.
Mujeres Latinas Network International
Mujeres Latinas Network International aims to provide women with support to develop their skills and strengthen their business connections. Together we can empower and engage with one another to become successful entrepreneurs.
Professionally Guided
An experienced, licensed and local psychotherapist guides our support group. Her professional career is extensive, and she has helped people facing a wide range of challenges.
Open Discussion
There is no single, one specific topic our group focuses on. Any case is a good topic for us. The group is open to discuss anything that is in our participants' minds.
In Spanish
Currently, we are the only support group for women in Spanish in the Vaughan region. Our participants come from all sorts of backgrounds and experiences. However, we are all connected by our Spanish-speaking skills.
Frequently Asked Questions
Is this program only for Spanish speaking women?
This program is not exclusively for people from Hispanic/ Latin American countries. However, The discussion is conducted in Spanish. We welcome all skills levels of Spanish, but we do recommend having at least a good understanding of the language.
Can I drop by just to check the program out?
Absolutely! any woman is welcome to drop by. Some women choose to come and just listen. You do not have to participate in the discussion if you do not feel like talking.
How do I register to this program?
If you would like to register or have more questions about the women support program, you can contact us at 
(905) 553-0937
or by filling up the form at the
Contact Us
page.
Do you do any special activities outside your regular program?
This program is just a couple of months old, so we do not have any outside programming for it. However, we love the suggestion, and will be looking in it. Let us know what you'd like to do.
Is there parking available?
Yes, there is free parking at the Maple Community Centre